Rugby and Tennis Race Night 2019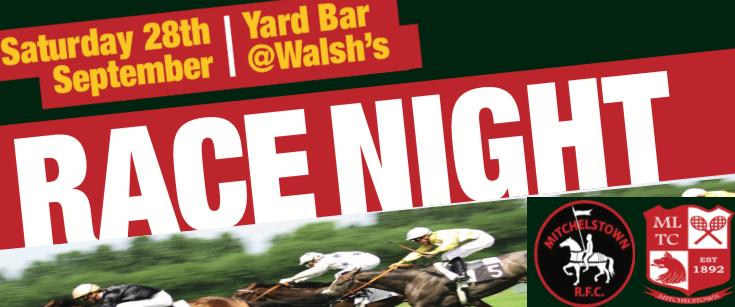 Mitchelstown Rugby Club and Mitchelstown Tennis Club have joined forces to host a Race Night fundraiser at Walshs' Bar on September 28th .
If you've never attended a Race Night before, then you are in luck, because this promises to be a great night out. A Race Night is where you have a flutter on pre-recorded horse races. We will be running a tote on the night for anyone that wants to make some €2 bets on their fancied entry.
In advance of the night, we are selling Race Card entries. Download your Race Card here and return to any of the Rugby or Tennis Club committee members having selected from the three options (each costing €20):
Owner (includes your horse name)
Trainer
Jockey
Race Nights are fundraisers, but we want to make sure you get some value for your €20 – more than the warm fuzzy feeling of supporting your favorite local sporting institutions. So here's what we can offer you for your support:
Fun keepsake

for all race night winners.
Free entry into our premium raffle. What's so premium about it? All prizes are over €100 in value!!
Speaking of value, for any business that want to get in on the action we have the a range of corporate sponsorship options on offer, each with a range of promotion options to fit your budget:
Gold Package (€200) – The Works
Silver Package (€100) – Best Value
Bronze Package (€50) – Most Affordable