COVID-19 Nationwide Level 5 Notice
[ISSUED 23rd OCT 2020]
The Republic of Ireland has moved to Level 5 status since midnight, Wednesday 21st October. The movement to Level 5 will have a significant impact on all activities in all clubs in the Republic of Ireland. The main implications of Level 5 include the following…Facilities should close with exceptions for:
Structured outdoor coaching and training for school aged players under the supervision of a Designated Coach.
Training for High Performance/Professional players
The restrictions mean that no other activities other than the exceptions outlined above can take place while Level 5 is active.
To assist clubs during this level, we have created a document which outlines the protocols to be followed and this can be accessed below:
We are aware some clubs are running mid-term camps next week. Guidelines for running safe tennis camps during COVID-19 can be accessed below.
Running Safe Tennis Camps During COVID-19
Sample COVID-19 Screening Form
These should be utilized in conjunction with the Level 5 Protocols.
Tennis Ireland has worked hard over the last week in an effort to demonstrate to government that our sport can operate safely, however the Government's guidance on Level 5 is now clear, with the risk to public health meaning that individuals are asked to stay at home with certain exceptions as outlined.
Our measures and procedures are under constant review and updated as advice from Government and health authorities evolves in line with the movement between levels and we will endeavor to keep clubs updated.
If you have any queries in relation to the guidelines or otherwise please contact covid19@tennisireland.ie
[ISSUED 22nd OCT 2020]
Tennis Ireland and the wider sporting sector have received clarification from Government, this evening, in relation to the protocols that refer to Level 5 of the Framework for Restrictive Measures to deal with the COVID-19 emergency.
The Government's guidance on Level 5 is now clear, with the risk to public health meaning that individuals are asked to stay at home with certain exceptions.
The protocols, as they relate to Tennis, can be summarised as follows;
No Tennis activities should take place during the Level 5 restriction with the following exceptions:
Non-contact training / coaching can continue for school aged children under the supervision of designated coaches. It must occur outdoors in pods of no more than 6 players per court. A maximum of 4 players can operate on the court at any one time while remaining in their own sections of the court, with up to 2 other players rotating in and out as required.  All activities are subject to strict social distancing and those players not on court must always maintain a clear 2m distance from others.
High Performance / Professional Players are permitted to continue to train both indoors and outdoors.
High Performance is defined as covering those who are:
Professional sports people and those who participate within professional competition
A member of a high-performance team funded by Tennis Ireland e.g. Davis and Fed Cup, Team Ireland programme recipients
Those who compete at major international events including European and World Champions, Olympic and Paralympic Games, Grand Slam, ATP, WTA, ITF Men / Women's World Tour
Facilities / Clubs
As they are not recognised as essential services, the decision of Government is that all gyms, leisure centres, swimming pools and other sports facilities including Tennis Clubs and courts must close during the Level 5 restrictions. This includes both indoor and outdoor sports facilities.
It is permitted to open sports facilities (including Tennis Clubs) for training by High Performance Players.
It will also be permitted to open outdoor courts for structured training sessions by school aged children, i.e. those aged 18 years and younger, as per the recommended pod system. This must be conducted under the supervision of designated coaches and in compliance with approved COVID-19 protocols and all relevant public health guidance.
During these training sessions it will only be permitted for participants and relevant coaching and support personnel to be present.
In the case of children's sport, parents will be permitted to attend for child safeguarding purposes, however, they will be required to comply with social distancing and other public health advice.
Tennis Ireland understands the disappointment and difficulties that the government instructions will pose for players, coaches, club volunteers and staff but the challenge caused by COVID-19 impacts across all sectors of society and sport and we need a nationwide effort to fight it.
We are asking that clubs implement the above measures in order to help safeguard staff and members. This will allow our juniors to continue to train safely and will protect our communities while the threat of COVID-19 exists.
Tennis Ireland will issue more detailed guidance to its member clubs directly.
[ISSUED 20th OCT 2020]
Following a communication this morning from Sport Ireland, Tennis Ireland, notwithstanding to its communication yesterday evening,  must unfortunately now ask all member Clubs to suspend all activities (including all junior coaching programmes) in the Republic of Ireland with immediate effect.
The Department of Sport Expert Group is meeting this morning to finalise Level 5 protocols for sporting organisations and once these protocols have been issued to Tennis Ireland,  we will communicate further with member Clubs.
Tennis Ireland understands the difficulties and disappointment that this instruction will pose for players, coaches, club volunteers and staff but the challenge caused by COVID-19 impacts across all sectors of society and sport and we need a nationwide effort to fight it.  Tennis Ireland will, as it always has done, work closely with Government and Sport Ireland to reopen our sport as soon as possible, even on a restricted basis, in as safe a manner as possible.
Tennis Ireland would like to thank Clubs, their members and coaches for the work that has been done over the last number of months in providing much needed exercise and safe, socially distant enjoyment to communities across Ireland.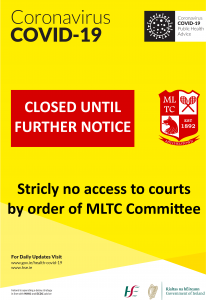 [ISSUED 19th OCT 2020]
The Board of Tennis Ireland met this evening to consider, among other items, the implications of Level 5 of the Government's Framework for Living with COVID-19.
As the country moves to Level 5 from midnight, there is an impending need to communicate our interpretations of the Government Protocols to our clubs.
Having considered very carefully the Government's Framework for Living with Covid-19 and the protocols within it, and in the absence of more specific guidance from Government, the Board of Tennis Ireland's interpretation of it is as follows until further clarification is forthcoming.
Access
Outdoor Courts can remain open for restricted play.
Singles Play is only allowed on a casual basis for exercise purposes only.
Doubles play is allowed only with member from the same household.
Players to live within a 5km radius of the club
There should be no adult training, coaching or matches.
Indoor courts should remain closed.
The Clubhouse should close with an exception for the reception area if required for registration or emergency purposes
A designated Club COVID-19 Officer must be on site during opening hours
Players must have a pre-reserved playing time, and all details recorded for contact tracing purposes
Staggered arrival times should be in operation to minimise groups gathering
Coaching
Junior Outdoor Coaching must only take place in pods of 6 per court with a maximum of 4 on court at any one time and staying in their section of the court
No coaching is allowed for non-school aged players
Children allowed to travel beyond 5km to train
Coaches allowed to travel beyond 5km to work on children's training programmes.
The Board of Tennis Ireland have always put the health and safety of its members and the wider community as its top priority during the COVID-19 crisis.  We will continue to do so and ask that all those involved in tennis do so also by following the protocols provided by Tennis Ireland and Government.
Tennis is a safe sport and the following safety measures must continue to be in place in our clubs
Minimise touch points – gates open, courtside furniture removed
One parent/guardian must accompany any player under 18 years if playing casually
Promotion of social distancing at all times
Posters to be displayed and sanitising stations readily accessible
All players, and not just the player making the booking, should be included in the booking
Players encouraged to travel to the club alone, or only with a member of the same household.
Ample car parking spaces should be available to ensure social distancing. If players must park next to another car, they should wait for the other person to exit or enter before doing so themselves.
Players should arrive at the court entrance no more than 5 minutes prior to the reserved playing time.